Senior Entrepreneur Finds Success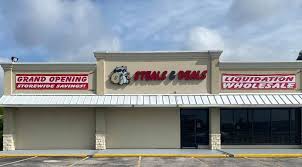 Senior entrepreneur Cole Wallace opened up his first liquidation wholesale store in the summer of 2020. With minor help from others, he established the first Steals & Deals on Galveston Island in early April. You can find overstocked and discounted merchandise at Steals and Deals. 
Cole made his mind up and knew he wanted to start his own business. "I would have to say my mom and my pops have helped me the most," said Wallace.
With his mom supporting him in every step of the way, and his dad helping sign leasing agreements he had a one way shot to success. He's quick to say that his true mentors were both of his parents and seeing their amazing work ethics, and always working overtime just to make sure they could provide a comfortable lifestyle for him and his siblings made him want to work harder.
Wallace takes a lot of pride in customer service, and is always finding new solutions to meet the needs of others. "You can expect a warm sincere greeting, along with a cold bottle of water being offered," Wallace said.
"It's really and truly like a miniature Walmart/Target with a twist of Amazon." In the store you can find all kinds of new and discounted goods. Everything varies from home decor, furniture, clothes, shoes, rugs, baby items, cosmetics, electronic accessories, toys, lawn, garden and kitchen appliances.
The community from Galveston Island and surrounding cities highly reviewed Steals and Deals via 'Google Reviews' and 'Yelp'. Many are very pleased with his customer service and overall work ethic.
"Steals and Deals is an awesome store," according to Google reviewer Maryann Salinas.  "The employees are very nice and helpful.  I will definitely refer my friends." 
"Great shop! They get new stuff everyday," a Google reviewer Jessica Knofla explains. "Amazing deals and such a sweet friendly staff. Gotta check this place out! Totally worth it for the deals." 
"My favorite place in my world — not kidding, I'm here every other day! Moving into my new apartment, Steals and Deals has everything that I needed & more, for a great price," Google Reviewer Julia Huynh said. "From furniture, essentials and even Hearth and Hand decor, they had it all. Not to mention the best customer service! Cole is the hardest worker I've met!"
Wallace expects new stores to be popping up left and right, and as of right now he secured a building in Livingston, Texas. 
A quote that has stuck with him throughout his journey would be: "If you help enough other people get what they need or want in life, things will come naturally for yourself" by Zig Ziglar. A suggested book that he recommends to any other young adult trying to start off their own business would be "Rich Dad Poor Dad" by Robert Kiyosaki.