Tom Brady: The G.O.A.T. or not?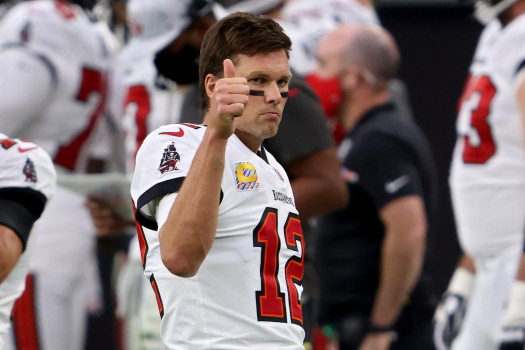 Playoff Brady chasing his seventhSuper Bowl ring.  
It is now down to the final four, there is a ton of talent amongst these four teams. The Green Bay Packers, who the Tom Brady-led Tampa Bay Buccaneers play on Sunday, and the Buffalo Bills who play the Kansas City Chiefs are all fighting for NFC and AFC champion. And really any of these teams could take it home. However, there is a man with the most success by far and he is on the same mission, but just on a new team.  
Tom Brady and the Tampa Bay Buccaneers have been a team to look out for since the beginning of the season. With a solid 11-5 run they made their way into the wildcard finishing second in the NFC South. This time it looks as if the Buccaneers might be a better team than the famous Patriots a couple years ago. It is safe to say that Brady has more weapons to work with than he did three years ago when he won the Superbowl title in 2019.  
"The odds of Brady seeing another Superbowl are exceptionally good, however, he must beat a very experienced quarterback (Kansas City's Patrick Mahomes) being the 'game of the year'," Ethan Laredo (10) said..  
Even though Brady is a playoff powerhouse, some people anticipate Brady going down in this upcoming NFC Championship. "Rodgers is just simply better and the connection with Rodgers and Devante Adams are unmatched." Laredo said.
There is a lot of talk and excitement about how Brady will do in this upcoming game to see if he will go down this Sunday, or will he chase his seventh ring.