Australia Battles Wildfires Once Again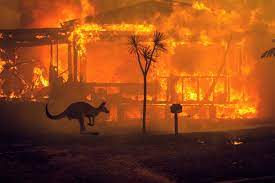 These past weeks, Australia has been battling the grueling effects of bush fires in the area. They are estimated to have a total of almost 15,000 fires across the country, it has since been classified as the worst fire season recorded in history. Officials have officially declared a state of emergency and evacuation in areas. Experts are still working to finalize the report, but it is approximated to have caused around 3 billion animals deaths and displacements plus an additional 28.32 million acres affected. The current death rate has also been estimated to 33 people. Chris Dickman the educator of science has called for the halting of "manic land clearing" to present biodiversity reduction and reduce the rapid spread of wildfires. This devastating event has caused millions of dollars in property damage. Australia is working to cease the fires and return to normal or as close to normal as possible. 
On top of the recent fire related destructions in Australia, they have also announced the opening of a travel bubble between New Zealand but ended up putting it to a halt due to a positive case report. They are preforming a 3  day lockdown in order to help prevent further spreading.