A Cinde-Roll-a Story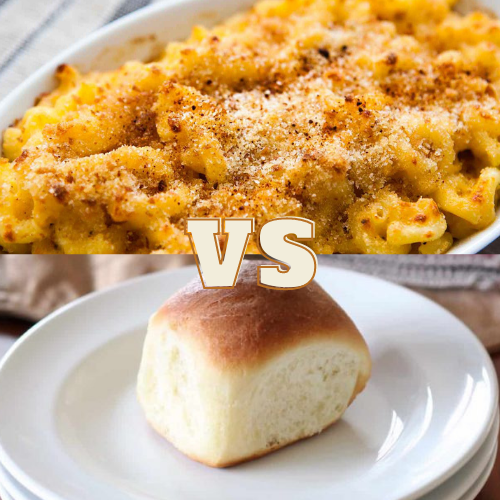 Throughout the week, the Charger community has been voting on the @cshs_chargers Instagram account in a Thanksgiving sides tournament, generating some of the most unpredictable winners and losers of any tournament yet. As we prepare for Thanksgiving, here are some of the best side dishes to put on your plate, as determined by you and your peers.
16th place – Candied yams
Candied yams were one of three sides to only hit the double digit mark in vote count, getting just 57 votes in the first round against top-5 finisher stuffing. However, 57 is not the lowest number of votes that a food got in any round, that title belonging to candied yams' veggie counterpart glazed carrots, getting a whopping 26 votes in round two.
15th place – Cranberry sauce
Student voters did not treat cranberry sauce the same way their parents probably did, but going up against the juggernaut that is mac and cheese in round one, cranberry sauce stood no chance. Cranberry sauce got 62 votes, avoiding the last place spot by just 5 votes.
14th place – Creamed corn
This one came as a shocker, personally. Creamed corn not only finishes in the bottom three with 88 votes, but below cornbread. A pretty corny result, in my opinion. Mashed potatoes mopped the floor with creamed corn in round 1 with 390 votes.
13th place – Cornbread
Making the tournament for the sole purpose of being pit against rolls, cornbread only got 106 votes. Rolls was a tough opponent, though, as they made a surprise run through the tournament.
12th place – Pecan pie
The most unpopular pie of the four included in our tournament is pecan, losing to the classic pumpkin pie 113-354. 
11th place – Brussel sprouts
In a first round veggie clash against glazed carrots, brussel sprouts put up a better fight than anticipated, earning 114 votes to glazed carrots' 328. Perhaps the healthiest of our list goes down in round one.
10th place – Chocolate pie
Another shocking vote reminding us that these tournaments are unpredictable, chocolate pie being the next pie to go down. Apple pie won 271-204 — a fairly close vote. Maybe it was the picture that was a turnoff — the chocolate did look like a little bit much.
9th place – Sweet potato casserole
Our casserole showdown resulted in a savory victory over sweet, sweet potato casserole losing 214-334. Sweet potato casserole was the last first-round exit of the bunch.
8th place – Green bean casserole
Both casseroles finish back-to-back in the standings, green bean casserole earning a total of 334 votes. Green bean casserole saw a huge drop in support in its second round matchup against mashed potatoes, getting just 93 votes to mashed potatoes' 406.
7th place – Glazed carrots
Glazed carrots saw the biggest fall-off of any food on the list, going from 328 votes in round one to a measly 26 votes in round two against mac and cheese. 26 was the lowest number of votes for any food in any round, but glazed carrots still placed 7th for beating up on brussel sprouts.
6th place – Apple pie
Apple pie totaled an unsatisfying 399 votes throughout the tournament, defeating chocolate pie in an upset in round one, but falling short to the Cinde-roll-a story, missing out on a top five spot.
5th place – Stuffing
Starting off the top five, stuffing was the last food to be eliminated in the second round. After absolutely destroying candied yams in round one, stuffing could not get the job done against the most popular pie of the tournament, pumpkin pie, which finished fourth. They lost the matchup 332-152 and tallied a total of 545 votes.
4th place – Pumpkin pie
Pumpkin pie defeated its pie rival in round one, pecan pie, then beat stuffing, but fell short against mac and cheese in the semi-finals 166-297. This means, according to this tournament, the best pies are: pumpkin pie, then apple pie, then chocolate pie, then pecan pie. Pumpkin pie received a total of 852 votes, making a huge gap in between 5th and 4th place.
3rd place – Mashed potatoes
After stuffing went out in round two, mashed potatoes were the believed favorite to win it all. In true tournament fashion, though, it loses unpredictably in the semi-finals to rolls. It was the closest vote of them all, being decided by just 26 votes in favor of rolls to move on to the championship. Mashed potatoes broke quadruple digits in total vote count with 1,014 and defeated creamed corn and green bean casserole in two blowout victories before the loss to rolls.
2nd place – Rolls
The story of the tournament was the roll that this Thanksgiving side was on the whole way through. When we were brainstorming foods to put on this list, we did not even consider rolls until towards the end, but it made it all the way to top two. And it wasn't a cakewalk, either. Rolls beat cornbread in round one, apple pie in round two, and mashed potatoes in the semi-finals, amassing a total of 1,130 votes. Rolls lost to mac and cheese, but won our hearts in the tournament. A true rolls-to-riches story.
1st place – Mac and cheese
Not to be overshadowed was mac and cheese, winning the entire tournament with a staggering 1,434 votes. For reference, that is about 25 times more votes than candied yams got. Mac and cheese beat cranberry sauce, glazed carrots, pumpkin pie, and rolls with no problem, each round getting at least a 100 vote victory. This Thanksgiving, make sure to put mac and cheese on your plate next to some rolls and mashed potatoes.
Thanks for voting! And as always, stay tuned for next month's tournament!