Spring Broke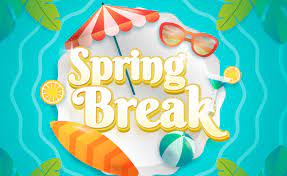 Spring Break is just a few months away, but unfortunately, some can't find the money to travel If you don't want to spend a lot of money, there's many other ways to enjoy Spring Break. 
  With the help of a bottle of Windex and a trash bag, it's always refreshing to do some spring cleaning. Many have even found lost items while going through all the items they stuffed deep inside their closets. Looking through old items like clothes, toys, blankets, etc. can bring back many nostalgic memories that you can just look back on and laugh at. Simply polishing the floors to dusting the top of cabinets can open the place and make everything 'homier.'  
Host a movie marathon. If possible, find movies that belong to a trilogy or start a new TV series. Feeding into the idea that if you complete something you'll feel refreshed. Some of the movies you can start watching include things from Marvel, Star Wars, DC Comics, Lord of the Rings, Harry Potter, etc.  
In Galveston, each year the city hosts a huge and bright Mardi Gras parade from January 21st-March 27th. Tickets for adults cost $14, Senior or Military cost $12, and children only cost $10. Even though there have been Mardi Gras parades in the past, citizens will be able to get the chance to look at costumes from the past at The Bryan Museum.  
Another event to look forward to is the professional sandcastle building lessons. Being able to kill time by using a few extra tools to add special details to your sandy builds. Adding a fun perk for future beach visits with friends or family. The best part about these lessons is that they're completely free. 
If none of these seem interesting, take the time to rest before going back to school and cramming for spring finals. Good Luck.