NBA billionaire v. NBA millionaire: Jokić pushes Ishbia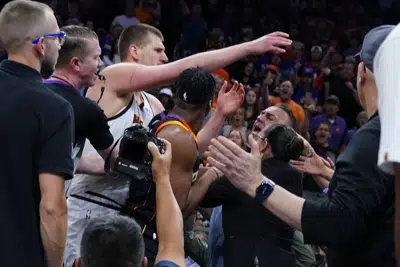 Things got heated in the Phoenix Suns-Denver Nuggets playoff game Sunday night when Nuggets superstar Nikola Jokić shoved Suns owner Mat Ishbia. The exchange, which took place just 2:38 from the end of the second quarter of game four, began when Phoenix's Josh Okogie made a hustle play toward the baseline, taking a tumble into a courtside section that just so happened to seat the billionaire CEO of United Wholesale Mortgage and owner of the Phoenix Suns Mat Ishbia.
Ishbia pried the Wilson basketball from the faulty grasp of Okogie, who was practically crowd-surfing for a moment as Jokić watched feet away. The call was Suns ball, the two-time MVP in visible discontent with the call and the presumed fan that seemed to want a piece of the leather.
In the NBA, we've seen player-fan interactions before, some much more malicious than Sunday's incident. But the fan typically doesn't have a net worth of $7 billion.
Jokić then initiated a tug-of-war with Ishbia, of which a third party emerged the victor – a white-shirted fan on the outskirts of the skirmish watching the ball fall right into his arms. In a sea of spectators now, Jokić was now dead set on the retrieval of the ball.
Then came the moment that's kept the NBA world talking since. The 250-pound Jokić delivered a subtle left-elbow shove to the chest of Ishbia, who fell back into his seat.
Despite all of this, Nikola Jokić's mission to get back his coveted basketball fell short, that same man in the white shirt throwing the most underrated pass of the night over tens of people to the hometown swingman Josh Okogie, who patiently waited in the crowd for things to die down.
In a decision that was arguably more surprising than the interaction itself, Jokić was only assessed a single technical foul and went on to perfect his 53-point performance. The NBA rules state any move directed toward a member of the crowd by a player will result in either ejection or impending suspension, but many speculate the status of Ishbia would do all but mitigate his punishment.
 Jokic and the Nuggets capitalized on the lack of a suspension from the league with a 118-102 victory over the Suns in game five, taking a 3-2 lead in the best-of-seven series. As things stand now, the early game four incident is but a smudge on an otherwise promising playoff run for Denver, who is a win away from the conference finals.