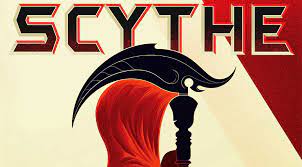 Dictators: They're big, they're bad, and they're all over. But we often don't recognize them until their control is so complete, they're nearly impossible to remove. Fortunately, history has showed us just what to look for. And where there's precedent, there's sci-fi, like Neal Shusterman's Arc of a Scythe trilogy, weaving an intricate and accurate tale of social injustices that arise when the wrong person is allowed to take power. 
In Shusterman's world, Robert Goddard is a charismatic leader of a small group of scythes, society's solution to overpopulation, with unusual ideals. They believe that in a perfect world like theirs, everyone should love what they do, including takers of life. He is introduced performing a mass killing, or "gleaning" as the book refers to it, bending the rules and receiving no punishment. While troubling, his actions aren't taken seriously. That may seem shocking, but it's not unprecedented. When Hitler entered the political scene, he was treated as a joke. No one could ever buy into such an extreme ideology, and if anything, Russia was the center of anti-Semitic sentiments. 
In both cases political leaders and the masses began to pay attention when something big happened. For Goddard, it was the sinking of Endura. For Hitler, it was the armistice that forced responsibility for World War I on Germany and destroyed the economy. In times of crisis people naturally look for someone with answers, and oftentimes someone to blame. Dictators provide both by acting quickly and decisively. Stalin enacted policies that moved populations and communalized resources. Hitler took Germans' human rights. And Goddard abolished the gleaning quota. As for blame, it usually falls on a marginalized group. Hitler famously blamed Jewish people along with others who didn't fit his standards. Goddard blamed Tonists, a religious group which existed on the fringes of society, and one of the few civilian organizations that were critical of scythes.  
Once they have built these groups up as a threat, they propose drastic solutions and convince the public to present a cohesive front. Goddard's words in the series eerily echo leaders in the past and present, emphasizing the importance of national identity over individual and destroying opposing factions in the name of unity. In times of crisis and panic, it works. People are willing to give their trust to someone who claims to be capable of handling a threat that's larger than life. And when it comes time to return to the status quo, these leaders refuse. In the Arc of a Scythe series, Goddard's reign only ends when the Scythedom ends. In life, dictatorships end with the same emergencies that began them, starting the cycle over. The best way to prevent this cycle is to be aware of the tactics used and shut them down before an extremist becomes a genuine threat. 
Story continues below advertisement