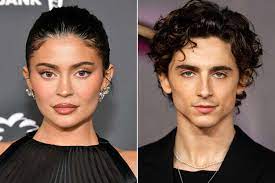 Gossip is what makes the world go round. If you are someone that doesn't like to openly admit that you are obsessed with celebrity gossip or any in general, but want to stay up to date, don't worry it's normal to have a guilty pleasure.
Kylie Jenner someone that seems to have come to fame out of nowhere. Her constant run through with men has always been something to keep up with. Starting with Ramsey IV, Cody Simpson, Jaden Smith, Tyga, Drake, Fai Khadra, Travis, and now Timothee Chalamet? She never fails to date people to maintain her fame. In case you weren't up to date, January 8th broke news that Kylie and Travis split again after being on and off for 5 years. A main reason that people think they have had a hard time together is because of difference in lifestyles. Kylie more focused on her kids and business, while Travis seems more devoted to his music and going out to party. They have always had many ups and down with splitting up and then getting back together. Are they going to keep this up, or are things going to change?
A most recent event at the U.S Open reveals the type of love and relationship she is in now, and how it is ever so different from the last. Many photos of them kissing were revealed on the internet of this new and fresh love for fans of both Kylie and Timothee. This young love is much a difference compared to the last, one thing that can be noted is the change in attitude, the way she dresses, and posts. In her new relationship with Timothee, many notice her in a "lover girl era", seeming as though her aesthetic has changed. From full glam to natural and glowing. Do we love it? Appearing more youthful with a glance of her freckles and long lashes along with blushed cheeks. She seems to be embracing her natural beauty more now, then when she was with Travis. In many of her Instagram posts it is much noticeable that she has barely any to no makeup on. Is this going to awake a new era for all the fans? She appears a lot happier and truly enjoying spending time with Timothee.
A source confirms that the pair have been dating since the 17th of April of 2023. When we were all busy obsessing over Kendall Jenner and Bad Bunny there were rumors made about Kylie and Timothee. Most fans of both stars were shocked about this combo. Timothee has a romantic and chill vibe that seems as though would match and balance Kylie's needs. Their photos posted showing their PDA but also how comfortable they are in a such a new relationship. Many people that are close to these stars have mentioned that they seem to be getting along and truly enjoying each other's company.
Story continues below advertisement