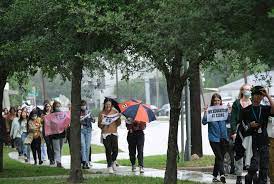 Dozens of high schoolers stood outside in the pouring rain while class was in session, and not because of any fire drills. Eastwood Academy students had organized a walkout last Thursday to protest recent district activity within their school.  
That Tuesday the public was informed that their principal was reassigned, effective immediately. Their assistant principal and school counselor soon followed. Parents were just as confused as their children, and HISD provided no clarification as to why these changes were made so suddenly.  
In a later press conference, the district Chief of Communications Leila Walsh said, "The safety and well-being of students in HISD is our top priority, and we have an obligation to protect our students in every instance. Including any instance where there is an allegation of inappropriate behavior involving adults and children."  
No further information was provided on the specifics of their investigations or their subjects. Either way, seniors in the middle of their college application processes were left anxious, even with the promise of college advisors filling the counselor's role.  
Story continues below advertisement
"You can feel the tension in the air around everyone, and it's horrible," states high school senior Heliodoro Martinez for ABC 13. "Even the teachers, I know that they're scared." 
And as is often the case with HISD, this was not the first or only instance of surprise reassignment. HISD announced that the principals of three major high schools within the district were to be reassigned last Wednesday, and as of now the public doesn't know where they're being reassigned to. 
The issue was prevalent all the way back in August when well-liked Stevens Elementary principal Erin Trent was reassigned just days before school started. Parents and staff were told that she would be on extended leave until November, but the later news that she wouldn't be returning was hard to swallow. Community members knew her as an involved and caring woman who made an effort to interact with the kids. None could fathom how or why she was being removed, and the district made no further comment. 
Eastwood Academy's story is acutely tied in with the avalanche of criticisms towards HISD in the media, and though it is widely reported on, some still worry their voices won't be heard. What happened there has nothing to do with the issues of Miles' New Education plan, but it has everything to do with the teenagers who need support and guidance in decisions that will heavily impact on their futures.