Study for the AP Exams in 5 easy steps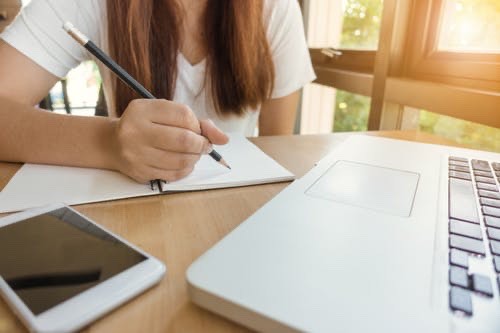 With the Advanced Placement exams are only a week away, you may be feeling overwhelmed and not know where to start. Follow these steps to prepare.
1.Know what you're up against.
There is about a week until AP exams officially start. Your specific test dates and times can be found here on the College Board site. Once you determine how many days you have until your test, create a plan. Reflect on the year and what units you struggled with- you'll spend the most time studying what you remember the least.
2. Organize your resources
While studying a whole year's worth of information may be overwhelming, the good news is that the AP exams are open book! That means you can look at the resources provided by your teachers in class. Organize your notes and worksheets using a binder or folder, so that on test day, you can easily find your notes.
3. Study Guide
To take this one step further, create study guides that you can refer to on test day. Create a massive Google or Word Document for each class and write all the main themes and important elements from each unit. You can take notes on College Board's free review videos or various other resources on the internet such as Fiveable, Khan Academy or Quizlet. 
With so many resources available online, it might be hard to decide which ones to use. For vocabulary based classes, create your own Quizlets or find premade Quizlets. Quiz yourself using premade Quizizz quizzes.
4. Study Dates
Even though you can't be together with your friends, you can still call your friends over Zoom or Facetime to compare notes, teach each other or play Kahoot together. 
5. Believe in yourself
Remember that you've been spending the whole year preparing for this exam. You got this, Chargers. 
About the Writer
Fiza Kuzhiyil, Editor-in-Chief
Color guard captain, debate treasurer and president of the Noah Falk Appreciation Club (meetings held the 32nd of every month). When I'm not with my various...