Super Nintendo World Opens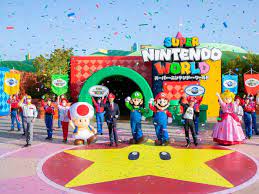 The Universal Studios park in Osaka, Japan just opened the first video game-inspired theme park, Super Nintendo World, on March 18, 2021, after being delayed for eight months due to the pandemic. As of right now masks are required, social distancing is in place, and a limited number of people are allowed in the park each day. This theme park features all the classic Nintendo characters, Mario, Browser, Yoshi, and more. Visitors can meet Mario, Luigi, Princess Peach, and Toad. 
Attractions include Mario Kart: Koopa's Challenge, which mimics the popular game itself, Yoshi's Adventure, a family-friendly Yoshi-themed ride, and Bowser, Jr. Shadow Showdown, a virtual experience ride putting the rider in a boss battle. While souvenirs are the most popular part of the park by far. From the standard t-shirts, keychains, and plushies to the unique and collectible Power-Up Bands, hats, and cups. However, the food from the Kinopio's Cafe is the most themed. From the Power Mushroom Pizza Bowl, Princess Peach's Cake, Question Mark Block Tiramisu, and Super Star Lemonade.