Asian American History Month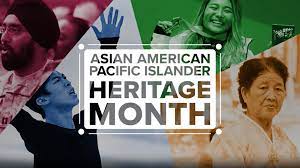 We have all heard that America is a melting pot of diverse cultures, and ethnicities. It is important to celebrate these differences between cultures and learn about other traditions. May is Asian American and Pacific Islander (AAPI) month, which means this is the month we highlight their history, experiences, and culture.  
During this time, it is important to listen to and support AAPI voices. We can do this by donating to different charities, supporting artists and business owners, and reading about their historic experiences and culture. There are even some museums you might be able to find that highlight AAPI history.  
Thankfully, we have some AAPI representatives in our government, along with an increasing number of award-winning musicians and actors. Even with America's growing acceptance, we still see consistent harassment and racism directed towards our AAPI communities. We as the public can help stop these hate crimes by strengthening AAPI voices and educating ourselves. Currently, Clear Springs host Asian Diversity club meetings on Thursdays once or twice a month. Anyone is welcome and it is a wonderful way to learn about AAPI culture, (The club is currently looking for a president to take over for next year.) Of course, we can do these things any time of year, May is just the time of year we highlight AAPI voices. So, in honor of Asian American and Pacific Islander Heritage Month, here are some media recommendations I have gathered: 
Movies: 
Everything Everywhere all at Once 
Crazy Rich Asians 
Turning Red 
Raya and the last dragon 
Shang chi 
Music: 
Mxmtoon  
Mitski  
Bebadoobee  
Hayley Kiyoko 
Book: 
Daughter of the Moon Goddess 
Crying in H-Mart: A Memoir 
Beautiful Country: A Memoir of an Undocumented Childhood 
Work Cited: https://www.asianpacificheritage.gov