Rewind: Football Team Reminisces at Infamous Dickinson Win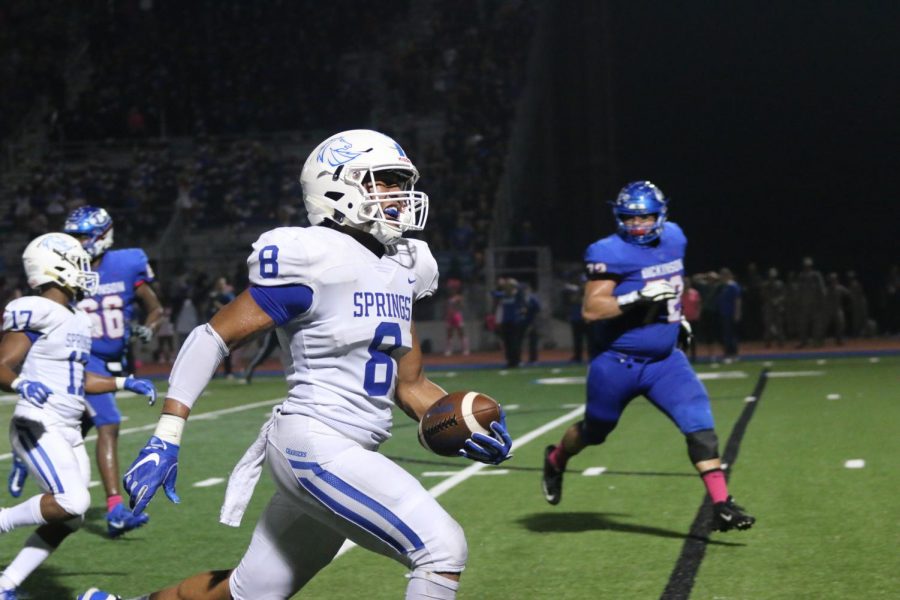 Standing on the field watching the clock run down until the fourth quarter begins feels like time is standing still. The score can't seem to get any worse at 0-28 and the look of disappointment on each players face sums up what everyone was feeling. Defeat. 
By the start of the second half Springs fans began to leave without any hope that we could possibly make a comeback. Taking a step back to look at our visitor student section, there were maybe a handful of kids left. Some were not even paying attention to the game. 
Then something clicked, maybe it was the first touchdown in the last quarter that spiked everyone's adrenaline, but after that the players came back together with the right mindset to win the game 35-28, with four of those touchdowns in the last three minutes of the game.
"The only way we were going to win is if we believed we were going to win," Football captain, Ryan Knaus (12) said.  
The biggest comeback of our football season will be this Friday October 10th we go against Dickinson again at Challenger Stadium.
With it being on our own field the stakes are even higher this year. Coach Nelms says that, "They will be more motivated than they were last year, so we have to do better in all four quarters instead of just the one." 
About the Contributor
Maddie Werner, Staff
I am a new member of the newspaper staff so I guess you could say writing is something I like. I have also been an athletic trainer for two years now for...